COCA-COLA STORE ORLANDO
WERE OPEN!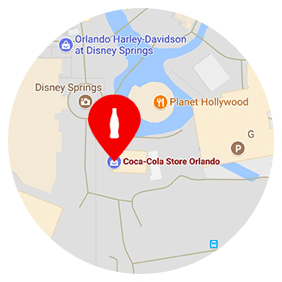 WHERE TO FIND US
1512 E Buena Vista Dr.,
Orlando, Florida 32830
(407)-560-0107 or 1-800-676-COKE
Face masks are optional for vaccinated guests and ambassadors.
HOURS OF OPERATION
Store and beverage bar hours subject to change.
Store Hours:
10am - 11pm Sunday-Thursday
10am-11:30pm Friday-Saturday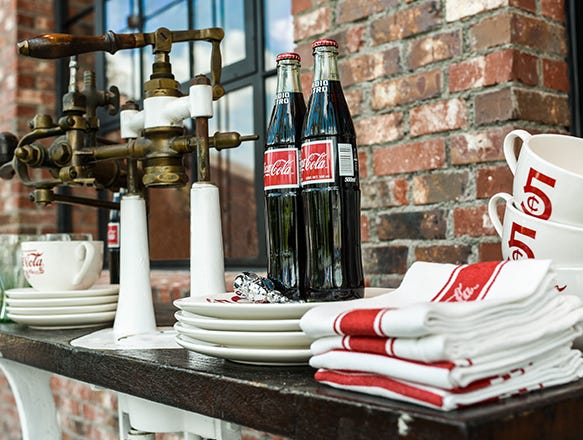 WELCOME TO COCA-COLA STORE ORLANDO!
Experience the world's most iconic beverage brand in an immersive retail destination. Coca-Cola Store Orlando is the place for exclusive Coca-Cola branded merchandise, unique and entertaining experiences and true refreshment that inspires the senses.
Coca-Cola Store Orlando is part of Disney Springs at Walt Disney World Resort. The store is located in Town Center, the district's newest neighborhood where you can find exceptional shopping and dining venues.
Face masks are optional for vaccinated guests and ambassadors.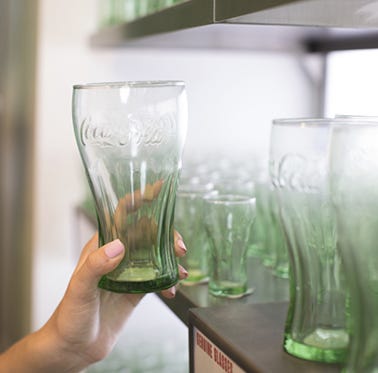 UNIQUE SHOPPING
AND GIFTS
If you're looking for the perfect take-home souvenir or gift for family or friends, you'll find something to love here. The store features a broad assortment of Coca-Cola branded merchandise as well as one-of-a-kind products that are unique to the store.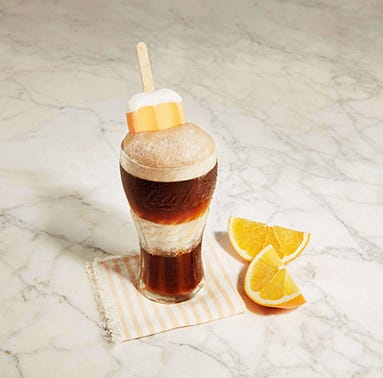 ROOFTOP
BEVERAGE BAR
Taste an ice-cold Coca-Cola while taking in the panoramic views of Disney Springs®. Choose from a variety of Coca-Cola beverages and brands from around the world such as Beverly from Italy and Thums Up from India, an array of frozen beverages and over 100 beverage choices via Coca-Cola Freestyle®.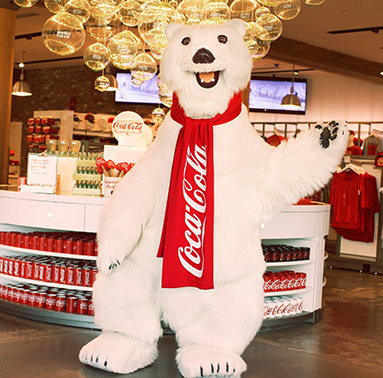 MEET THE COCA-COLA POLAR BEAR
Meet and have your photo taken with the friendly, 7-foot tall Coca-Cola Polar Bear at Coca-Cola Store! Feel free to use your own camera or have the in-store photographer capture the memory for you.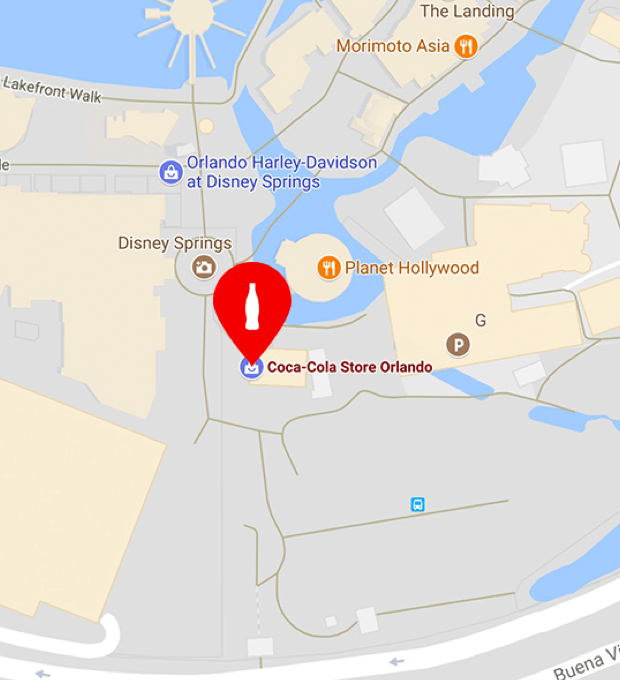 DIRECTIONS & PARKING
BY CAR:
• From I-4, take Exit 67 toward Epcot/Disney Springs.
• Follow the signs directing you to merge onto East Buena Vista Drive.
PARKING:
• Self-parking at the Disney Springs lots and structures are complimentary.
• Valet parking is also available, at a flat rate of $20.
• Please note: Payment will be collected at time of pick-up, and gratuity is not included in the cost.
BY BUS:
• Relax and enjoy the ride. Guests are encouraged to ride the easy-to-use and convenient Walt Disney World complimentary bus transportation.
• One-way bus service from the 4 Disney theme parks operates daily from 4:00 PM until 11:00 PM or 2 hours after theme parks close, whichever is earlier.
BY BOAT:
The Disney Springs promenade is accessible by complimentary water transportation, departing from the following Walt Disney World Resorts:
• Disney's Port Orleans Resort-French Quarter
• Disney's Port Orleans Resort-Riverside
• Disney's Old Key West Resort
• Disney's Saratoga Springs Resort & Spa
Arrival docks are located at the Marketplace and The Landing neighborhoods.
TIP:
When planning your visit to and from Disney Springs, please allow at least 60 minutes of travel time for arrival to your destination.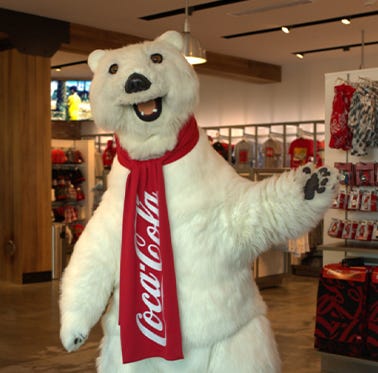 COCA-COLA POLAR BEAR
PHOTO OP
Meet and have your photo taken with the beloved Coca-Cola Polar Bear on the second level of the store. Bear hugs and high fives are welcome! ?Feel the chill of the arctic air, brush away the ?frost and find interesting facts about real polar bear habitats and behaviors that lend a sense ?of wonder to this one-of-a-kind experience.